Ice Road Kennels does not breed often.
​We focus on sound temperaments, sound structure, outgoing attitudes and an adventurous spirit.
---
Breeding Plans 2018
We decided to postpone our 2017 breeding plans because of circumstances involving missed competitions when the bitch came into heat early. I want her to have certain titles before she is bred, so we are now planning around those competitions.

We will be breeding Zealand and Greta in 2018.
This pairing will keep a tight pedigree on this line of dogs, producing well rounded and stable APBTs.

Zealand is a biddable, loving dog that really enjoys learning.
He is quick to pick up new things and is enthusiastic about it!
On par for the breed, he is dog aggressive but is calm and quiet at events and at home.
He is a fetch-a-holic, with extreme food drive and moderate toy drive.
He is titled in Rally Obedience (by far his favourite sport), Dock Diving,
has nice wins in conformation, runs Singles in racing,
and is training in agility.

Greta is a whirlwind of energy and lively spirits! She is outgoing and bubbly,
greeting everyone with a hearty "Awoowoo!" (usually with a ball in her mouth).
Greta is relatively dog friendly. She is my breed ambassador at events like fundraising walks,
where there is a multitude of pet dog people who don't always have well behaved dogs (;
Greta is titled in Dock Diving and lure coursing, races in Open, and is training in agility and flyball.

If you are interested in a puppy from this breeding,
​please email jairirai@yahoo.com or find me on Facebook (Jairi Rai) and send me a PM.
Powered by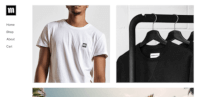 Create your own unique website with customizable templates.